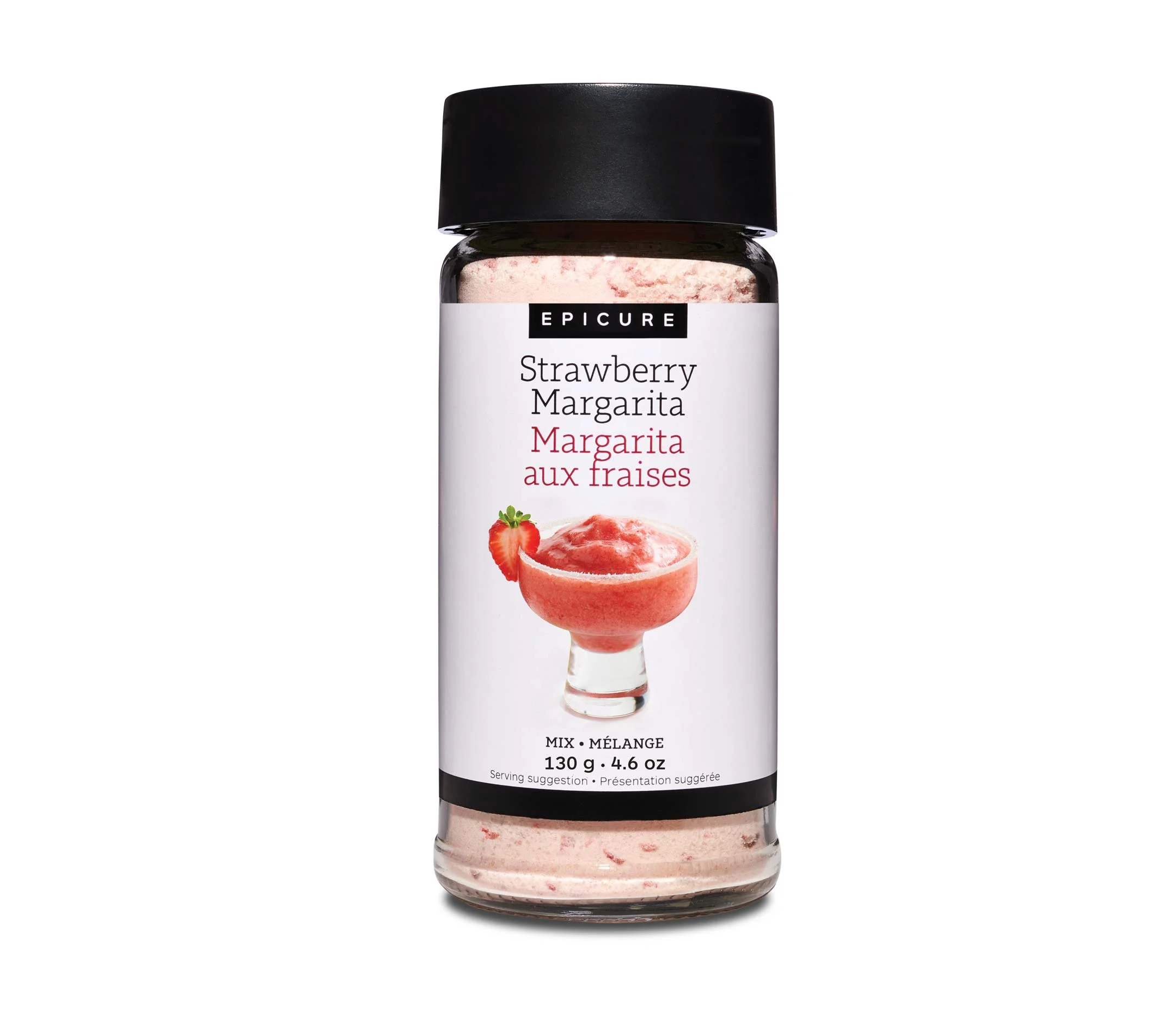 We can transport ourselves to the tropics whenever we want with our Strawberry Margarita Mix. With a sweet, tangy blend of real strawberries and tart lime juice, we can create restaurant-quality margaritas by blending with ice, strawberries (frozen or fresh), and water (tequila optional). This mix is also perfect for other fruity cocktails or mocktails. Made with high-quality, natural ingredients, it's a healthier alternative to traditional, sugary mixes. 
Simple Steps: 
In a blender, combine 2 Tablespoons of Strawberry Margarita Mix, 1 cup each of water, frozen strawberries, and ice cubes.  
Add 2 oz tequila (optional).  
Makes about 2 cups. 
All sources of maltodextrin used at Epicure are made with rice or tapioca. Epicure only uses gluten-free ingredients.
130 g (4.6 oz)
One jar makes about 24 margaritas. 
A low sugar diet is a sweet deal for stable moods, healthy weight, and lower risk of chronic diseases. Our Strawberry Margarita Mix has only 7 g of sugar. Store-bought Margarita syrups often have 3 or 4 times as much sugar. 
Ingredients: Organic cane sugar, organic lime powder (organic rice and/or tapioca maltodextrin, organic lime juice concentrate, organic lime oil), citric acid, organic lemon powder (organic rice and/or tapioca maltodextrin, organic lemon juice concentrate, organic lemon oil), strawberry, red rosella extract powder (red rosella extract, maltodextrin). 
We spend as much time thinking about everything we don't put in, as everything we do. See Our Good Food Promise and our Never-Ever List to see what you won't find in an Epicure ingredient list. 
Epicure is dedicated to sharing delicious meal solutions that use only real, whole ingredients you can trust, while never ever compromising on taste.
Epicure products are:
100% gluten free
Made in a nut-free facility (except coconut)
Free from corn syrup & hydrogenated fat
Free from artificial colours, sweeteners & preservatives
Sugar & sodium conscious
Made from ethically sourced ingredients
85% non-GMO Project verified
Learn more about our Good Food Mission and the Never-Ever List